Assessing the damage... I was too lazy last fall to put fencing around every plant in my yard...and now that the snow has melted, the realization is setting in... This rabbit carries a pair of Felcos and is a ruthless pruning maniac.
Anybody wanna buy a pound of little round garden balls?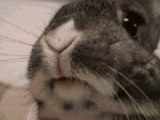 Some favorite woody plants for my little garden buddy: My Rosebushes, Dogwood, Sand Cherry (prunus), Burning Bush , Spiraea, and Bittersweet Vine.
The bottom of the bittersweet looks like a cheese grater was rubbed on it all winter !
This is war ...I'm calling Elmer Fudd.